Here are two "perfect faces" that were formed from the features of celebrities that men and women find attractive. This was done by a beauty survey commissioned by escentual.com and it revealed the huge and apparent difference between how men and women perceive female beauty.
According to this research, men have a penchant for blonde hair, full lips, and strong cheekbones. They also like a petite nose, less prominent forehead and finer eyebrows.
As for women, they associate beauty with dark hair, a stronger nose and forehead profile, strong brows and narrower bone structure.
When asked to name celebrities that embody the perfect features, men named Shakira for her cascading blonde hair, Miranda Kerr for her button nose, Jennifer Aniston for her forehead of Jennifer Aniston, the Duchess of Cambridge for her pronounced eyebrows and Angelina Jolie for her cheekbones and famously full lips.
Women have a different selection: Freida Pinto's glossy black mane, Keira Knightley's refined cheekbones, Cara Delevingne's thick bold brows, Blake Lively's strong nose and Scarlett Johansson's lips.
The results aren't exactly surprising for us at Daily Vanity. Some time ago, Keith and I decided to pick out a few celebrities where we decide if we find them hot or not. The results?
Katy Perry:
Kristen – Yes
Keith – No
Eva Longoria:
Kristen – No
Keith – Yes
Zhang Ziyi:
Kristen – Yes
Keith – No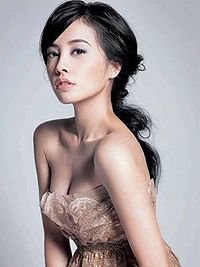 Jolin Tsai
Kristen – No
Keith – Yes
Gongli
Kristen – Yes
Keith – No
By2
Juliet – No
Keith – Yes
Diverse? Definitely. And just for the record, Keith did find the image (put together by the survey) of the blonde lady more attractive than the dark-haired one, while I find the dark-haired lady more appealing.
How about you? What are your thoughts?